Classic California Road Trip Package
7-Night Stay from San Diego to Half Moon Bay!
With the official reopening of Highway 1, so much of California's natural beauty awaits on one of the most famous and breathtaking drives in the world. Pacifica Hotels is pleased to share our exclusive CLASSIC CALIFORNIA ROAD TRIP: a 7-night adventure package featuring accommodations at premier coastal destinations alongside don't miss attractions for the ultimate experience.
Featuring over 500 miles of coast-hugging beauty, this limited-time offer includes a 7-night stay for two from San Diego to Half Moon Bay. In addition, get to know each area with dining credits at savory restaurants and several fun activities, from stand-up paddle boarding to a private aqua yoga class and a hot air balloon ride.
Pacifica Hotels is also partnering with Hertz to offer up to 30% off car rental rates! Now is the perfect time to rent that convertible and truly experience the breathtaking beauty of Highway 1.
This Classic California Road Trip Package includes following:
1-night stay at each of the following Pacifica Hotels:
Blue Sea Beach Hotel (San Diego)
The Belamar (Manhattan Beach)
Marina del Rey Hotel (Marina del Rey)
The Wayfarer (Santa Barbara)
Inn at the Pier (Pismo Beach)
Oceanpoint Ranch (Cambria)
Half Moon Bay Lodge (Half Moon Bay)
Dining at the Pacifica Hotels' restaurant destinations below:
Brunch at The Belamar's Second Story Restaurant ($50 credit)
Lunch at Jamaica Bay Inn's Beachside Restaurant & Bar ($75 credit)
Dinner at Marina Del Rey Hotel's SALT Restaurant & Bar ($125 credit)
Brunch at The Georgian Hotel's Veranda ($50 credit)
Breakfast at Inn at the Pier's Blonde ($50 credit)
Breakfast at Oceanpoint Ranch's Canteen ($50 credit)
The following activities:
SUP paddle board rental for 2 persons at San Diego Jet Ski in Mission Bay (up to 4 hours)
90-minute group surf lesson for 2 persons with Camp Surf in Manhattan Beach
90-minute private paddle board yoga class for 2 persons with YogaAqua in Marina del Rey
Hot air balloon ride for 2 persons with Sky's The Limit Ballooning in Los Olivos
Grand Rooms Group Tour for 2 persons at Hearst Castle in San Simeon
Round of ocean view golf for 2 persons at Half Moon Bay Golf Links in Half Moon Bay
Up to 30% off car rental rates with Hertz
7-day itinerary jam-packed with fun, including more restaurant and activity suggestions!
---
This Classic California Road Trip Package starts at $3,000 + tax. For pricing and availability, please contact Roadtrip@PacificaHotels.com.
*Book now until 10/10/2018. Stay dates are from August 20, 2018 - May 31, 2019. 14-day lead time required for booking hotel stays and activities. Does not include sales tax. Subject to availability. Hotel stays must be booked over 7 consecutive nights. All activity and outing times must be confirmed at time of booking. No-shows or cancellations will not be refunded. Meal times included with dining credits are suggestions only. Actual reservations may be made via OpenTable.
---
Participating Properties
San Francisco Coast
"If you're alive, you can't be bored in San Francisco. If you're not alive, San Francisco will bring you to life." - William Saroyan
The San Francisco Coast summons guests with its scenic ocean vistas, acclaimed surfing at Mavericks, incredible farm-to-table dining and easy access to celebrated city streets. Plan a Bay Area vacation with Pacifica Hotels, boasting two relaxing destinations in Pacifica and Half Moon Bay.
Half Moon Bay, California
Embodying hacienda-style architecture in a quiet retreat setting, Half Moon Bay Lodge is a coastal hideaway for leisure and business travelers alike. Our Half Moon Bay, CA hotel features 80 rooms and suites with an enhanced lodge feel, warm and inviting with earth tones and cozy furnishings.
2400 Cabrillo Highway South
Half Moon Bay, CA 94019
TEL: (650) 726-9000
Central Coast
Herman Melville called the Pacific Ocean "the tide-beating heart of earth". Witness this spectacular beauty with a stay at one of our Central Coast hotels in the picturesque seaside towns of Cambria, San Luis Obispo, Pismo Beach and Santa Barbara. On Central Coast getaways, outdoor enthusiasts can explore some of the best surf spots in the state or take a hike through scenic trails. The Central Coast is also home to renowned wine regions, galleries, exemplary restaurants and incredible cultural gems like the majestic Hearst Castle, built by newspaper tycoon William Randolph Hearst.
Los Angeles Area
Known as the "Entertainment Capital of the World", Los Angeles possesses a certain kind of charisma, youthful beauty and coolness rarely found in other parts of the world. And staying true to its reputation, there's never a shortage of things to do around these parts. From the eclectic, circus-like boardwalk of Venice Beach to the glitz and glamour of Hollywood, the city is certainly a silver screen-worthy experience.
Orange County Coast
"In summer, the song sings itself." - William Carlos Williams
With 42 miles of pristine beaches, year-round sunshine and legendary theme parks, Orange County is synonymous with summer. Visitors soon find themselves swept away by the vast beauty of the Pacific Ocean against wild canyons and verdant hills. All this beauty is complemented with a wide range of active pursuits. Discover the magic of the original Disneyland Theme Park, indulge your artistic side at the Pageant of the Masters, dine on imaginative cuisine at coastal eateries and take a scenic hike through El Moro. Welcome to your best summer vacation—available every month of the year.
San Diego Area
"Everything is just better in California – the wine, the food, fruits and vegetables, the comforts of living." - Beth Anderson
Tucked away in the southwestern corner of the continental United States is a picture-perfect destination where sunny skies, ocean breezes and comfortable temperatures come standard. San Diego is everything a modern city should be – and more. Downtown is a vibrant area filled with restaurants, shopping, bars and pro sports venues, and areas like Coronado Island and Ocean Beach offer relaxation and beautiful ocean views.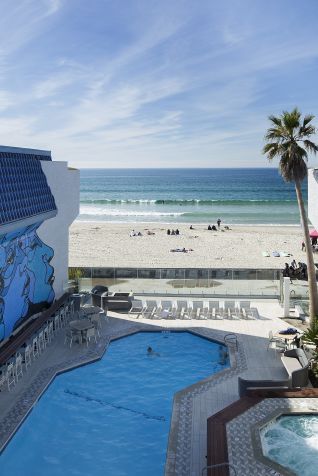 San Diego, California
Ideally located on the sandy shores of Pacific Beach (PB), the fan-favorite Blue Sea Beach Hotel is a refuge from the every day. Perfectly suited for the ultimate laid-back vacation, be greeted by our bright new beach décor and indulge with Pacific Beach hotel features and services like our oceanview year-round heated pool and spa, on-site bicycle rentals, and a central location near the world-famous Strand, perfect for surfing and sunbathing.
707 Pacific Beach Drive
San Diego, CA 92109
TEL: (858) 488-4700
Hawaii
"Hawaii is not a state of mind, but a state of grace." - Paul Theroux
With the deep blue of the Pacific on one side and the dramatic peaks of Mauna Loa on the other, to visit Hawaii is to fall into nature as it was meant to be. Multiple national parks grace the Big Island, surrounding happening towns like Kona, a destination filled with diverse dining, authentic shopping and cool ocean breezes. Historic sites sit just minutes from upscale resort areas and award-winning golf courses. Wrap yourself in breathtaking beauty, island mystery and alluring culture - discover Hawaii.
Kailua-Kona, Hawaii
Situated on the sacred lands where Hawaii's most famous king ruled, our Kona, HI hotel offers an endless array of features for unforgettable vacations and events. Whether you choose to relax at the spa or swing a racket or feast on kalua pig (or all three—why not?), Courtyard King Kamehameha's Kona Beach Hotel sets the stage for any of your favorite island pursuits.
75-5660 Palani Road
Kailua-Kona, HI 96740
TEL: (808) 329-2911