Exclusive Website Specials from Pacifica Hotels
Leave Footprints in the Sand with our Lowest Rates Guaranteed.
Looking for a sunny spot to rest your head on the sand and work on your tan? How about an epic surfing spot to brave the waves? Perhaps you've always dreamed of touring California's beautiful vineyards along the Central Coast. Or, maybe you'd rather tour the rainforests and volcanoes of Hawaii.
Whatever your idea of the perfect California or Hawaii getaway is, Pacifica Hotels offers a variety of website-only rates and vacation packages for the ultimate holiday. From special advance purchase rates to exclusive discounts when you book 3 or more consecutive nights, browse our current hotel specials below, and plan the trip of a lifetime with us. These hotel packages and website exclusive rates are only available when you book direct.
Want the latest offers delivered right to your inbox? Sign up here to receive the best deals from Pacifica Hotels with Pacifica Passport.
San Francisco Coast
"If you're alive, you can't be bored in San Francisco. If you're not alive, San Francisco will bring you to life." - William Saroyan
The San Francisco Coast summons guests with its scenic ocean vistas, acclaimed surfing at Mavericks, incredible farm-to-table dining and easy access to celebrated city streets. Plan a Bay Area vacation with Pacifica Hotels, boasting two relaxing destinations in Pacifica and Half Moon Bay.
Half Moon Bay, California
Embodying hacienda-style architecture in a quiet retreat setting, Half Moon Bay Lodge is a coastal hideaway for leisure and business travelers alike. Our Half Moon Bay, CA hotel features 80 rooms and suites with an enhanced lodge feel, warm and inviting with earth tones and cozy furnishings.
2400 Cabrillo Highway South
Half Moon Bay, CA 94019
TEL: (650) 726-9000
Central Coast
Herman Melville called the Pacific Ocean "the tide-beating heart of earth". Witness this spectacular beauty with a stay at one of our Central Coast hotels in the picturesque seaside towns of Cambria, San Luis Obispo, Pismo Beach and Santa Barbara. On Central Coast getaways, outdoor enthusiasts can explore some of the best surf spots in the state or take a hike through scenic trails. The Central Coast is also home to renowned wine regions, galleries, exemplary restaurants and incredible cultural gems like the majestic Hearst Castle, built by newspaper tycoon William Randolph Hearst.
Los Angeles Area
Known as the "Entertainment Capital of the World", Los Angeles possesses a certain kind of charisma, youthful beauty and coolness rarely found in other parts of the world. And staying true to its reputation, there's never a shortage of things to do around these parts. From the eclectic, circus-like boardwalk of Venice Beach to the glitz and glamour of Hollywood, the city is certainly a silver screen-worthy experience.
San Diego Area
"Everything is just better in California – the wine, the food, fruits and vegetables, the comforts of living." - Beth Anderson
Tucked away in the southwestern corner of the continental United States is a picture-perfect destination where sunny skies, ocean breezes and comfortable temperatures come standard. San Diego is everything a modern city should be – and more. Downtown is a vibrant area filled with restaurants, shopping, bars and pro sports venues, and areas like Coronado Island and Ocean Beach offer relaxation and beautiful ocean views.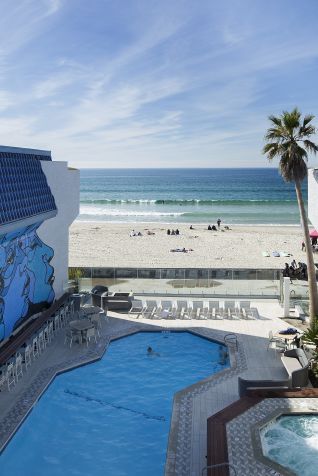 San Diego, California
Ideally located on the sandy shores of Pacific Beach (PB), the fan-favorite Blue Sea Beach Hotel is a refuge from the every day. Perfectly suited for the ultimate laid-back vacation, be greeted by our bright new beach décor and indulge with Pacific Beach hotel features and services like our oceanview year-round heated pool and spa, on-site bicycle rentals, and a central location near the world-famous Strand, perfect for surfing and sunbathing.
707 Pacific Beach Drive
San Diego, CA 92109
TEL: (858) 488-4700
La Jolla, California
Located just steps from the beach, La Jolla Cove Hotel & Suites invites guests to experience the charm of La Jolla and the tranquil beauty of the Pacific Ocean. Our La Jolla hotel offers newly refreshed guest rooms and spacious 2-bedroom vacation rentals with stunning ocean views, instant access to sandy beaches, and generous hotel amenities, with complimentary Wi-Fi and breakfast everyday! We're centrally located just steps from La Jolla Cove and a short walk to boutique shops, restaurants, and art galleries.
1155 Coast Boulevard
La Jolla, CA 92037
TEL: (858) 459-2621
Florida
The world's cultures started converging here 500 years ago, when Juan Ponce de Leon came to La Florida looking for gold and the fountain of youth. They've been enriching our shores ever since." - Jodi Mailander Farrell
Florida is synonymous with sunshine, beaches and beautiful ocean views. With unspoiled beaches, crystal-clear water, and plenty of family-friendly adventures upon which to embark, the Sunshine State provides a picture-perfect destination. Plan a Florida vacation to Port St. Lucie, where the stellar services, amenities and accommodations of the Hilton Garden Inn will welcome you.
Hawaii
"Hawaii is not a state of mind, but a state of grace." - Paul Theroux
With the deep blue of the Pacific on one side and the dramatic peaks of Mauna Loa on the other, to visit Hawaii is to fall into nature as it was meant to be. Multiple national parks grace the Big Island, surrounding happening towns like Kona, a destination filled with diverse dining, authentic shopping and cool ocean breezes. Historic sites sit just minutes from upscale resort areas and award-winning golf courses. Wrap yourself in breathtaking beauty, island mystery and alluring culture - discover Hawaii.
Kailua-Kona, Hawaii
Situated on the sacred lands where Hawaii's most famous king ruled, our Kona, HI hotel offers an endless array of features for unforgettable vacations and events. Whether you choose to relax at the spa or swing a racket or feast on kalua pig (or all three—why not?), Courtyard King Kamehameha's Kona Beach Hotel sets the stage for any of your favorite island pursuits.
75-5660 Palani Road
Kailua-Kona, HI 96740
TEL: (808) 329-2911